Is It Safe To See A Chiropractor While Pregnant?
Not only is it safe to see a trained chiropractor during pregnancy it is highly beneficial. Our chiropractors are trained
in Webster's, a technique that encourages breech babies to turn head down and get in the most optimal position for delivery.
Why Should I See A Chiropractor While Pregnant?
Our team of chiropractors are trained to detect any imbalances in the pelvis or elsewhere in the body that could contribute to pregnancy discomfort or possible neuromusculoskeletal problems after childbirth.
Is It Safe To Get A Massage While Pregnant?
Research shows there are health benefits for both the mom and the newborn when therapeutic massage is incorporated into regular prenatal care. Our massage therapists are trained in specific prenatal massage to bring you the maximum benefits.
Prenatal massage focuses on the special needs of the expecting mother as her body goes through the dramatic changes of pregnancy. This gentle, non-invasive approach can be a great support for the mother during and after pregnancy.
Care After Pregnancy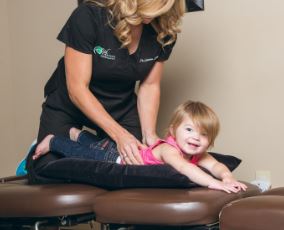 Both baby and mom can benefit greatly from chiropractic care after birth.
95% of infants have misalignments after birth. The sooner misalignments are gently corrected by a trained chiropractor, the easier it is for your baby to have healthy growth and development.
Evidence shows that regular adjustments reduce the incidence of ear infections, colic and acid reflux symptoms in children. Other benefits include improved sleep, breast-feeding, nervous and immune system function.
Chiropractic adjustments for mom after birth restore spinal and pelvic subluxations and help the ligaments return to their healthy pre-pregnancy state.
Do You Accept Insurance?
Yes, we are in network with most major medical insurance. Your initial consultation with the doctors will set you up
with the best treatment plan for you and your baby!