Welcome to Path to Wellness, your comprehensive integrated health facility offering a wide range of services to improve your quality of life. As an integrated health facility, our goal is to improve ones' quality of life through our 3 pillars of care: Medical services, chiropractic care, and physical/massage therapy. Our unique approach encompasses medical services, chiropractic care, and physical/massage therapy, providing you with a one-stop solution for all your healthcare needs. Unlike most clinics, we have the advantage of having both chiropractors and physical therapists on our team, allowing us to address a variety of conditions and concerns. From post-surgery rehabilitation for all extremities, including the spine, to targeted treatment for shoulder pain and back pain, we have the expertise and resources to cater to your specific needs. Whether you're dealing with sports injuries, seeking relief from chronic back pain, or looking to reduce pain and improve joint function, our comprehensive services have you covered. Our dedicated team of professionals is here to strengthen weak areas, enhance mobility, and help you regain an active and pain-free lifestyle. At Path to Wellness, we truly do it all.
Our team works together to ensure the patient's comprehensive health needs are met. Our team of Doctors of Physical Therapy and Physical Therapy Assistant specialize in treating the entire spine as well as providing PT services for women's and pelvic health symptoms. We also rehab patients post operatively and treat patients with joint pain. Here at Path to Wellness, you will receive an individual, evidence based physical therapy and massage therapy treatment plan, a guided home exercise program and a team approach to your healthcare.
Physical therapy along with chiropractic care is useful in identifying specific areas that are weak and need to be strengthened and re-positioned. Physical therapy can also be helpful in correcting nerve inflammation/trauma and reducing the swelling, tingling and numbness caused by bulging discs. Physical therapy combined with massage can increase blood and lymph circulation while breaking up scar tissue between muscles fibers.
Your goals are our goals! We want to help get people out of pain, strengthen weak areas, improve restricted range of motion and allow you to get back to activities that pain or fear has been limiting you from performing! Take the first step towards optimal health and contact us today to get started!
Targeted Strengthening for Weak Areas
Identifying and addressing weak areas in the body is crucial for long-term health and well-being. Our physical therapists are skilled in assessing muscular imbalances and designing targeted strengthening programs to address these weaknesses. By improving strength and stability in specific areas, we help individuals prevent future injuries and optimize their overall physical performance.
Post-Surgery Rehabilitation
Recovering from surgery can be a challenging process, especially when it comes to restoring mobility and function in the extremities, including the spine. At Path to Wellness Integrated Health, we understand the importance of comprehensive post-surgery rehabilitation. Our team of skilled physical therapists and chiropractors is well-versed in providing effective treatments to promote a speedy and successful recovery.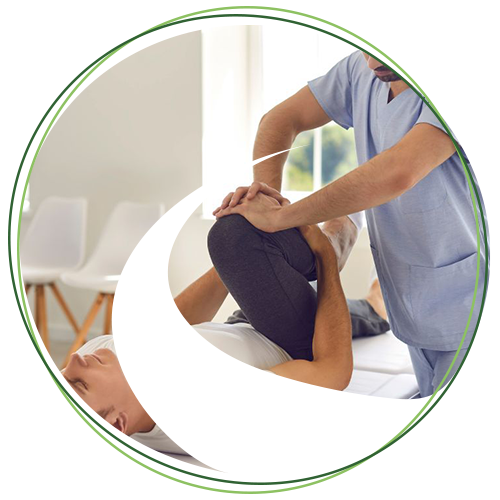 Shoulder Pain and Back Pain Management
Shoulder pain and back pain are common issues that can significantly impact one's quality of life. At our clinic, we specialize in diagnosing and treating these conditions. Our experienced professionals utilize a variety of therapeutic techniques, including manual therapy, exercise prescription, and modalities such as heat and cold therapy, to alleviate pain and restore functionality.
Pain Reduction and Joint Function Improvement
Our primary goal is to reduce pain and improve joint function for our patients. Through a combination of manual therapy techniques, therapeutic exercises, and targeted interventions, we aim to alleviate discomfort and enhance overall mobility. By addressing the root causes of pain and dysfunction, we help individuals regain strength and flexibility, facilitating a successful journey toward wellness.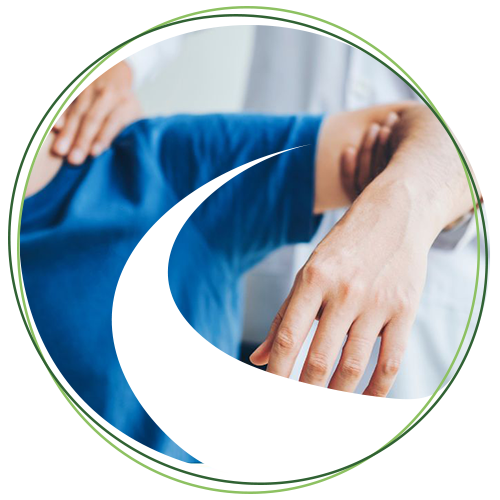 PELVIC FLOOR HEALTH
Our Doctor of Physical Therapy, Meagan Roberson, specializes in women and men's pelvic health. This specialty involves improving the pelvic floor and strengthening muscles to help patients with conditions such as diastasis, incontinence, bladder and bowel dysfunction, sexual dysfunction and/or pain. Pelvic health physical therapy can also benefit pediatric patients.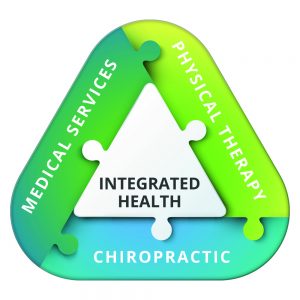 COMMON DIAGNOSES THAT WE TREAT
Pregnancy and postpartum
Urinary and fecal incontinence
Post-gynecological surgery or prostatectomy
Pelvic pain
Constipation
Pediatrics with bowel and bladder dysfunction
Pain with intercourse
PELVIC FLOOR TREATMENTS
Each patient will have an individual evaluation that will last approximately one hour in a private room. A second person in the room may be requested if that makes the patient more comfortable. All testing will be done within the patient's comfort zone and the treatment plan is entirely personalized to meet the specific needs of the patient.
Most of the conditions are covered by insurance and we will verify insurance with the patient's provider prior to the evaluation.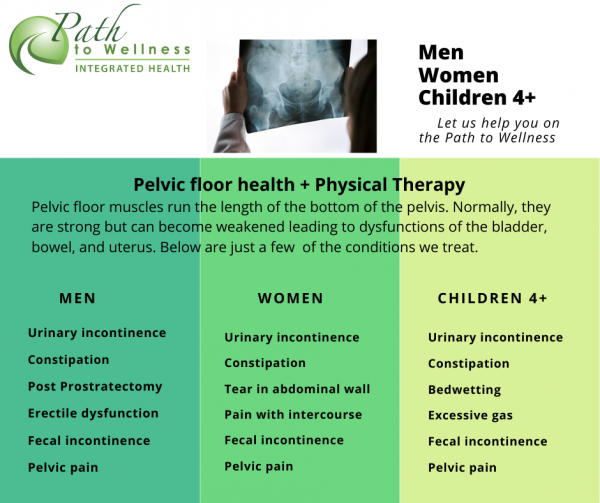 At Path to Wellness Integrated Health, we are dedicated to providing comprehensive and specialized physical therapy services. Our team of experienced professionals is committed to helping patients achieve their goals on the path to wellness. Contact us today to schedule an appointment and experience the benefits of our integrated approach to health and rehabilitation.
Schedule Your Appointment