Lauren Letz, D.C.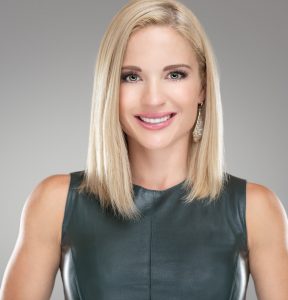 Owner/Operator/Doctor
Dr. Lauren Letz loves being a chiropractor and feels extremely blessed to have the opportunity to help others! Dr. Letz graduated Summa Cum Laude from Parker College of Chiropractic as the class Salutatorian. She realized her calling to be a chiropractor while attending Texas A&M University, where her studies focused on Biomedical Science and Clinical Nutrition. She is very passionate about the importance of the spine being in the correct alignment, as well as the importance of proper physical fitness and nutrition. Dr. Letz takes great pride in her ability to focus on the patients needs. She works diligently to not only repair current problems but works to create a healthy environment so future spinal injuries do not arise. Dr. Letz treats her patients using a "whole body approach." Her philosophy on health care is summed up in Thomas Edison's famous quote, "The doctor of the future will give no medicine but will interest his patients in the care of the human frame, in diet, and in the cause and prevention of disease."
To understand her philosophy is to understand her favorite line, "You have only one spine and there is no such thing as a spinal transplant."
Dr. Letz is always working to increase her levels of professionalism. In August of 2013, she completed her certification and is now offering Trigger Point Dry Needling as an adjunct to all the other Chiropractic services. In March of 2010, she completed the Certification program for the Titleist Performance Institute. For her patients that play golf, this gives her a great ability to treat from an incredible level of knowledge; allowing her to treat not only from a Chiropractic arena but also in the area of improving a patients ability to play better golf.
Ashley Salazar, D.C.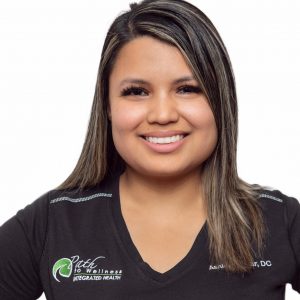 Associate Doctor                                       
Dr. Salazar joined Path to Wellness in August 2017.
Her passion is to bring healing through chiropractic care to as many people as possible. Like all our doctors, Dr. Salazar believes in the innate healing power of the body when treated properly. She helps guide patients on the path to wellness by sharing her expertise and wide-ranging knowledge.
Dr. Salazar holds a doctorate of chiropractic from Parker University in Dallas, Texas, and a bachelor's degree in biology with a minor in spanish from Hardin-Simmons University in Abilene, Texas. While at Parker University, she completed additional coursework and also holds a bachelor's degree in anatomy and health and wellness.
Dr. Salazar's wealth of knowledge on the various chiropractic techniques makes her an excellent resource to patients who would benefit from one form over another. The Thompson method involves the use of an adjustable table. If she whips out an activator tool, don't be alarmed, this is an excellent device for the extremities such as realigning the knee joints. The commonly known manual adjustment is called diversify and is done completely by hand. Because Ashley is certified in the Bradley method, she can adjust babies and work on prenatal patients.
She has completed Functional Movement Techniques (FMT) Certification courses to become certified in Rocktape Kinesiology Taping; an evidence-based approach to taping for pain, enhancing fluid dynamics, posture, nerve entrapment and scars. Her Webster Technique certification is a specific chiropractic sacral analysis and diversified adjustment. The goal of the adjustment is to reduce the effects of sacral subluxation/ SI joint dysfunction.
In her free time, she enjoys the outdoors and spending time with her family, partner Michael and their dogs, Beau and Bella.
Cagan Randall, D.C.

Associate Doctor
We are thrilled to introduce the newest provider to our team, Dr. Cagan Randall, D.C. He did his undergraduate studies at Arizona State University (ASU) and then continued his Graduate studies in Chiropractic at Parker University in Dallas, Texas. Still wanting to dive deeper, Dr. Randall attended The Carrick Institute For Graduate Studies located in Cape Canaveral, Florida, a world leader in clinical neuroscience and rehabilitation. His journey started when one of his nieces began struggling with a developmental delay and he watched his family fight to find a way to help their little girl.  After seeing firsthand the lack of resources and solutions available, Dr. Randall became interested in providing a resource for families who were struggling to find help for their children.  His passion for working with children is the catalyst in him becoming a highly qualified provider and resource available to families. Randall has intentionally focused his studies in the chiropractic field to address pediatric conditions such as the epidemic rise in Attention Deficit Hyperactivity Disorder (ADHD), dyslexia, and a variety of neurological disorders.  Dr. Randall continues to educate himself on the latest developments in functional neurology, nutrition, and receptor based therapy. He and his wife live in the local area with their two young children.
Russell Phillips, D.O.
Medical Director
Dr. Russell Phillips is a board certified family medicine doctor in Southlake, Texas and is affiliated with The Cell Spa and McKenna Orthopedics. He has been in practice for more than 29 years. He practices integrated health and is the Path to Wellness Integrated Health Medical Advisor.